It's a joy to raise chickens. Some people prefer to build their chicken coops, others prefer to purchase pre-made chicken coops. There are many professional chicken coops for sale on the market. Each has its own character and style. If you've been dazzled by these famous chicken coop suppliers, don't worry. We will analyze their pros and cons from a professional point of view for you in this article. Whether you are concerned about material issues, assembly issues or size issues, we will present them all for you.
Aivituvin
When it comes to professional chicken coops, I would first recommend Aivituvin to you. Aivituvin as a brand is dedicated to creating beautiful houses of the highest quality for our chickens. Take a look at why an Aivituvin chicken coop is so great. With over 20 years of experience, has allowed Aivituvin to adapt and evolve. And they are now among the top companies in this industry. This position is maintained by continuous improvement and development. Every pet home is expertly designed and handcrafted in family-owned factory using only the best quality materials. Each home is high quality, durable, well-designed, easy to assemble, and affordable for pet owners and pets. Aivituvin services include free shipping, fast delivery, and free returns. Here's a list of your concerns.
Wide range of chicken coops with different designs and unique gray color for 2-10 chickens to meet different requirements.
There are 8 warehouses in the United States for delivery, CA TX GA NJ each two; delivery within 1-2 business days after the order is placed.
The tongue and groove construction makes the structure more stable. The board to board connection is more compact and firm.
Waterproof asphalt roof; Eco-friendly paint protects wood; PVC cover on nesting box to prevent water leaking into the interior; Drawers with locks to prevent predators from attacking chickens; round edge perches to make chickens more comfortable to stand on; asphalt stairs – non-slip, more durable.
The large ventilation window sliding window keeps your chicken coop dry and avoids sickness, vents allow air flow to reduce moisture.
Pull out metal tray and plenty of access doors for easy cleaning.
My Recommendation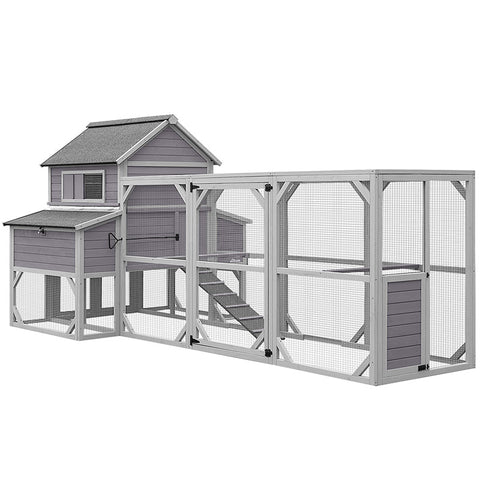 This large chicken coop is suitable for 8-10 hens of normal size and small poultry.. It is made from solid fir wood and galvanized welding wire. The wooden chicken coop includes 6 roosts, 4 inside and 2 outside. This coop provides ample roosting space for your chickens.
Another helpful feature of this cage is the grip on the ramp. The little wooden blocks are a nice touch to help chickens find their footing and when descending the ramp and going into the garden area. Vents allow airflow to reduce moisture to keep your chicken house dry & avoid sickness. With a sliding door and handle, it is possible to close the sleeping area entrance from outside the coop.
Below are the product details for your reference.
| | |
| --- | --- |
| Inner Space (Total) | Sleeping Area–16.58ft²; Ground Activity Area–38.54 ft² |
| Capacity (suggested only) | 8-10 Chickens/Small Poultry |
| Quantity of Nesting Box | 2 |
| Product Net Weight | 226lbs |
| Overall Dimension | 134.5″(L) x59″(W) x62.4″(H) |
| Chicken Run Dimensions | 94.5″(L) x33.5″(W) x44.3″(H) |
Pros:
Big enough to hold 8-10 chickens. It all depends on how large your chickens are.
Waterproof PVC cover across the nesting box roof edge to prevent water from getting inside. The special latch prevents predators from opening the nesting box.
Accept installing an automatic chicken door opener.
6 nesting boxes.
Large run for chicken roaming and roosting.
All panels have diagonal wood supports to support the construction and provide a longer service life.
Run extends under each nesting box to support and avoid the nesting box sag after a period of time.
Cons:
It has no wheels, so it can't move easily.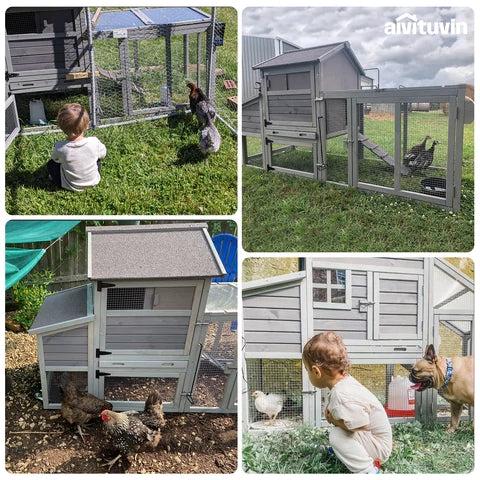 The Chicken Coop Company
The Chicken Coop Company takes full advantage of humanitarianism. We design our coops with you and your chickens in mind! We have more experience in designing chicken coops because we have received a lot of feedback. The Chicken Coop Company designs its own chicken coops to ensure quality is rigorously tested. Provide customers with the best performance, longevity and durability of the house. The assembly process is very easy and takes about 1-2 hours. But to be honest, all the coops have only one style and old colors. There is less for you to choose from. Also, if you live in a place where it rains all year round, then it is not very suitable for you. Because there is no waterproof device on the roof. Also, because parts tend to get dirty or scratched during shipping, primer is used. You may need to touch up your coop before staining or painting! Here are other details about The Chicken Coop Company.
The coop is packaged in one or more flat boxes. Ground Shipping is available for the Leghorn Cottage & Orpington Lodge Coops, as well as Freight for Rhode Island Homestead XL Chicken Coops. Upgrading shipping for 600 dollars.
The tongue and groove construction makes the structure more stable. The board to board connection is more compact and firm. Heavy gauge hardware, wire mesh, flashing above nesting boxes, heavy sliding poop trey.
Extra large ventilation windows to keep the interior of the coop dry.
Pull out metal tray and plenty of access doors for easy cleaning.
My Recommendation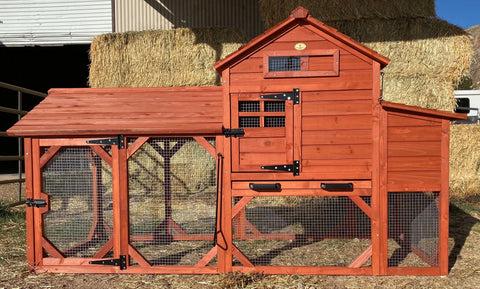 Many people want to paint their chicken coop to match their home. Then this large chicken coop can help you achieve that. You get the product with a water-based primer that you can completely paint after you set it up. This chicken coop is made of non splintering fir timber to keep your chickens protected at night . The coop door uses metal handles. And there is a 15-inch gap under the coop to provide extra roaming space for the chickens. It has high quality construction. Like heavy duty hardware, wire mesh, flashing above the nesting box, and heavy duty sliding potty holder. There are sturdy supports under the nesting box and diagonal wood supports on all panels. The design has been carefully crafted to create a large chicken coop that is second to none. The following are the product parameters that can be referred to.
| | |
| --- | --- |
| Overall Dimension | 76"long x 31.5″wide |
| Quantity of Roosting Rods | 2 |
| Box 1 of 2 | 29x11x40 inches 49 lbs |
| Box 2 of 2 | 32x8x48 inches 50 lbs |
| Capacity (suggested only) | 3-5 Chickens |
Pros:
You can design the wood frame color by yourself.
There is plenty of room for the chickens to hang out.
There are sturdy supports under the nest box to prevent the nest box from sagging.
Diagonal wood supports on all panels.
Cons:
No stand under the coop.
It's hard to move.
OverEZ
At OverEZ, keeping chickens can be fun. All OverEZ products feature superb craftsmanship and high-quality materials. These are all done at minimal cost. You can totally afford it. OverEZ is passionate about making every large chicken coop for clients across the country. You'll be happy with OverEZ's beautiful, high-quality, easy-to-assemble modular EZ coop. In 2020, OverEZ also won the Best Retailer Award from the NRHA. This definitely gives OverEZ more confidence to sell the best chicken coop. Provide customers with the most satisfactory products with a more enthusiastic attitude.
Ships in 2 working days.
The structure is simple and not stable enough, and it is only connected by screws.
There's only a tiny vent, and the ventilation isn't great.
A wood roof is not waterproof; there are no perch for the chickens to rest.
No tray, only one door, not easy to clean.
My Recommendation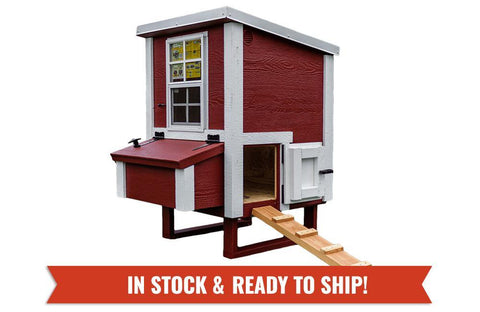 The Coop In A Box can house up to five chickens. It also comes with flooring so can meet all your needs. The coop is made from Amish-trained woodworkers and built to last. This coop is easy to assemble and takes less than 60 minutes. All trim and panels are painted, assembled. And all hardware, Doors & Windows are installed. Nesting boxes are assembled. Metal is then installed on the roof panel. It has a screened window that opens and closes for fresh air. There are also chicken gates with treated wood ramps.
| | |
| --- | --- |
| Overall Dimension | 34″ L x 45″ W x 54 – 1/2″ H |
| Nesting Boxes | 2 |
| Hexagonal Mesh | 75″ x 75″ |
| Capacity (suggested only) | Houses Up to 5 Chickens |
Pros:
Assembled in under an hour with just a screw gun.
It won't rust or corrode.
UV Treated
Rot-proof
Cons:
Not big enough.
Unable to move.
The roof cannot be opened.
Omlet
Founded in 2003, Omlet has plenty of experience. The large chicken coop run from Omlet is the ideal large chicken coop to keep your hobby chickens. Omlet The chicken house is easy to clean and features a sliding tray for dropping eggs. Every coop comes with a universal automatic coop door. Omlet employees are committed to providing exceptional products and outstanding service to your pet. Omlet products can be found in Europe, USA and Australia. Beautifully designed, easy-to-maintain chicken coops allow your chickens to play in their own space.
1-2 weeks delivery, the speed is relatively slow.
Compared to other brands, the space is small and the interior is crowded. There are no perch to rest the chickens; the whole is plastic and waterproof.
Vents are small, and plastic tends to collect heat more easily in summer.
There is a tray, and the material itself is plastic and easy to clean.
My Recommendation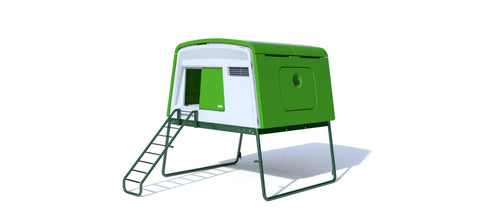 You can choose different models of this plastic chicken coop. Can be without run. With run, there are 6ft, 9ft and 13ft options. To allow the Eglu to move out of your house easily, allow for 2 ft.11 in space back to the house. You can open the run door from the front. Your chickens will feel safe and happy in their spacious steel enclosure. Omlet's anti-tunnel skirt provides peace of mind knowing that no one can enter and the dark green coating blends beautifully into your backyard. You can also extend the run to connect to a Walk in Run. The Eglu Cube Large Chicken Cooop with Run is Omlet's most popular and advanced chicken coop.
| | |
| --- | --- |
| Overall Dimension | 50x55x88 cm |
| Capacity (suggested only) | Up to 10 smaller chickens |
| Run | Double layer fully coated steel weld mesh |
| Box Run Extension | 3'3" x 1'9" x 3.1" (22.7 lbs) |
Pros:
100% Recyclable UV Stabilized Polyethylene, Powder-Coated Steel
Bolts, Screws and Molded Inserts: Stainless Steel
Easy to clean
You can choose with or without run.
Cons:
Plastic material gathers heat in summer.
There are no perch to give the chicken a rest.
Unsafe stairs.
Conclusion for the Chicken Coops for Sale
Different chicken coop brands have their own characteristics. Not every chicken coop is perfect. But we should choose among the many products that meet our expectations. The above is to show you the famous chicken coop suppliers and the products I recommend. This table below can more intuitively show you the differences between brands.
| | | | | | |
| --- | --- | --- | --- | --- | --- |
| | Origin | Material | Price | Style | Assemble |
| Aivituvin | China | Fir Wood | Low-Medium | Unique Gray Color | 30-45 minutes |
| The Chicken Coop Company | China | Fir Wood | High | Red | 60 minutes |
| OverEZ | USA | Compressed Panel | High | Red | 1-2 hours |
| Omlet | China | Plastic | Medium-High | Green and Purple | Convenience |
Final Thought
Coop security is one you should consider carefully. My advice is to read more reviews when choosing a chicken coop supplier. This helps you understand how suppliers treat their customers and their orders. Remember the most important thing is product quality. If I had to recommend you one of the best chicken coop supplier, it would be Aivituvin. With more than 20 years of experience it has been among the best in the field. Everything follows your will. Hope this article helps you find your ideal chicken coop and a reliable chicken coop supplier.